During the finals last season, the Vancouver Canucks became "Canada's team". A Canadian-based team hasn't won the Stanley Cup since Montreal inb 1993, and recent finals appearances from Calgary, Ottawa, and Edmonton were ultimately nowhere near as hyped up as this finals series was. Canada was excited to have a Canadian-based team bring the Cup home and the Canucks were the favorite, which facilitated more nationality-based excitement. The ironic part of having the entire country of Canada routing for the Canucks, "Canada's team", against the Boston Bruins (who, by default, were "America's team") was the fact that the Bruins had and still have more Canadians on their roster than just about any other team in the NHL. During the finals, every single Bruins player was Canadian except for American goalie Tim Thomas, German defenseman Dennis Seidenberg, Slovak defenseman and team captain Zdeno Chara, rental player and Czech defenseman Tomas Kaberle, and Czech forward David Krejci.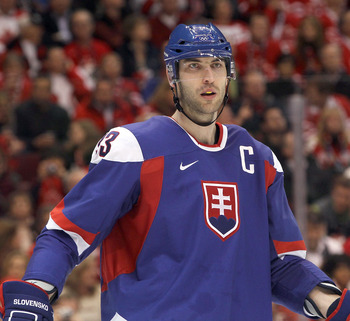 Vancouver, meanwhile, was largely represented by non-Canadian players as well, including their captain and his twin, the Swedish Sedins, German defenseman Christian Ehrhoff, Sami Salo of Finland, and Americans Keith Ballard, Cory Schneider, and Ryan Kesler, to name a few. Both Boston and Vancouver were captained by European players, but the Bruins impact players represented the majority of Canada – literally. The Bruins roster in the finals included Canadians from almost every province: Milan Lucic and Mark Recchi of British Columbia, Ference and Boychuk of Alberta, Shane Hnidy of Saskatchewan, Michael Ryder of Newfoundland, Adam McQuaid of Prince Edward Island, Brad Marchand of Nova Scotia, Patrice Bergeron of Quebec, and a handful of players from Ontario (Recchi, Horton, Seguin, Peverley, Kelly, Campbell, Thornton, and Paille). Furthermore, Patrice Bergeron was a fellow Gold-medal winner in the Vancouver 2010 Olympics along with Roberto Luongo. Bruins coach Julien and President Neely are also Canadians.
No matter how you look at it, the idea of an NHL team belonging to a specific national identity is irrational.
The Bruins of the current 2011-2012 season are a similar mosaic of Canadian players with a few other nationalities thrown in. About 68% of the team is Canadian, 14% American, and 1% each German, Czech, Slovak, and Finnish. Of the Canadian players, 53% are from Ontario, 13% from Quebec and Alberta each, and about 6% each from British Columbia, Nova Scotia, and Prince Edward Island.
The positions played by each player is interesting to note. Only Bruins forwards are from Ontario – the goaltenders are either American or Finnish, and the defensemen are either American, German, Slovak, or Canadians from Alberta or Prince Edward Island. Krejci also remains the lone non-Canadian, European forward.
Since the departure of PJ Axelsson a few seasons ago, the Bruins have yet to put another Swedish player on the roster. The absence of Swedes and Russians and the sparsity of Europeans in general is a unique statistical anomaly for the Bruins. It could perhaps be explained by the fact that the Bruins style of play is physical and rough, which is typically a style of play more exclusive to North American-bred players. The disparity of nationalities on the Bruins roster is definitely worth noting, but doesn't appear to be negative or overly positive. It just is.